It's easy for any company to have an HR department but it's hard to make it efficient enough to deliver right performance. Every company that has good human resource management will always own a loyal and satisfy team of employees who are productive enough to meet company's target and goals (both short term as well as long term). Although every company has a dedicated department of human resource but not all HR departments are worth enough. A good HR management team follows certain HR tricks and tips that help them keep company's staff happy and satisfied.
So, here we are listing few of those HR tips that actually can actually work in any company. Take a look: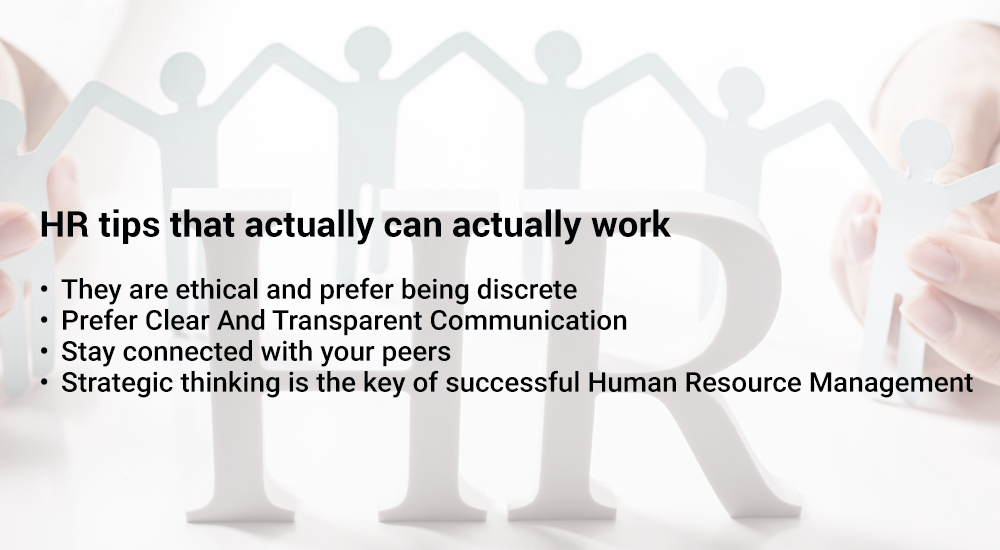 A good Human resource management always prefer clear and transparent communication
A good Hr department is the one that possess strong abilities to communicate. And here we communicate we mean ability to listen and understand as well as speak to convince. A HR is the only one who stay connected with everyone in an organization irrespective of their levels; from the top management to other department staff to clerical posts and sometimes even ex-employees; thus they need to possess an effective set of communication skills in order to remain fit in the role.
They are ethical and prefer being discrete
Believe it or not but Hr is a bit juggling kind of job where you need to put everyone on single page that too without being partial. It is no less than any balancing job and to handle it safely and securely; the HR team needs to be ethical and discrete with its policies and procedures. Where on one end they need to work in favor of employees to protect their rights and interests on the other they also need to keep company first.
Stay connected with your peers
HR is not a desk kind of job where you can work and operate from your work station only. It demands networking and connection with company's all employees. You should be in reach of all employees irrespective of their designation and level. Let your employees be familiar with you so that they can open up with their problems and confusions with you without any hesitation.
Strategic thinking is the key of successful Human Resource Management
A good HR team will always come with tools and solutions that can help both the organizations as well as employees meet their goals in a way that is fruitful for all.
The above mentioned points might not seem so strong but these small tricks can help your HR team develop an environment that is healthy and productive. So, make sure to include these points in your HR procedure and feel the difference.