It has become an extremely important job for companies to keep a responsible tab on time and attendance of their employees. The more they are defined about the discipline and punctuality of their resources; better they can manage the evolving requirements of audiences. The responsible and disciplined resources make forth truly great companies. However, manually updating the attendance and time of employees is not enough in today's highly evolving times of challenges.
An increased rate of fraud and lack of responsible management are giving rise to low quality performance. That's why being a responsible company; you should leverage the skills and benefits of an automated shifts and attendance software. SHIFTS software is a great addition to it.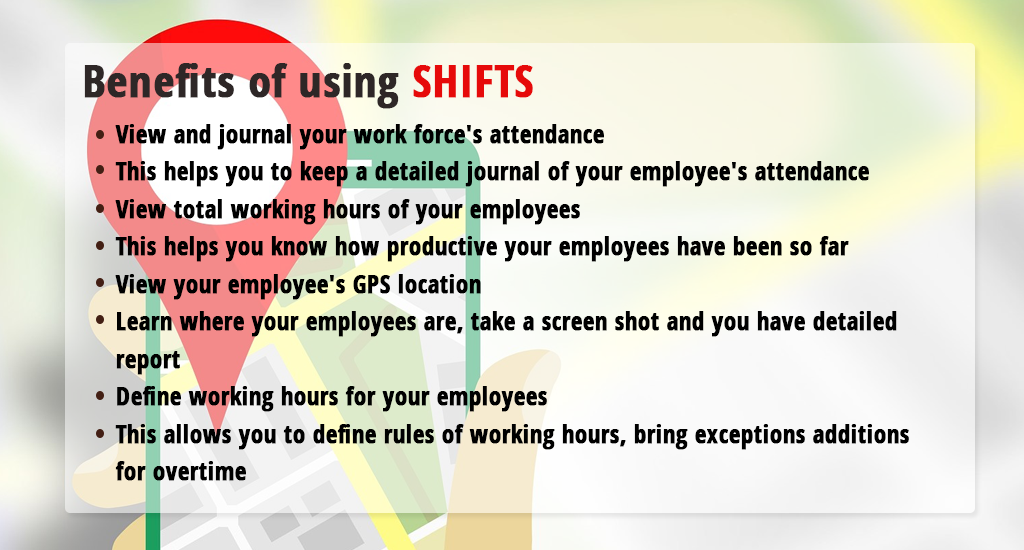 View and journal your work force's attendance
This helps you to keep a detailed journal of your employee's attendance
View total working hours of your employees
This helps you know how productive your employees have been so far
View your employee's GPS location
Learn where your employees are, take a screen shot and you have detailed report
Define working hours for your employees
This allows you to define rules of working hours, bring exceptions additions for overtime
This software can uncomplicate the entire process of managing your resources. Users buy module according to the needs and preferences, Get sub-domain URL to individual company, send SMS, reward employees, bring voting systems etc.
Benefits
So, in order to channelize your work system, and maintain a holistic work profile without having to bring any necessary changes yet yield highly useful benefits; you should choose SHIFTS App. It can offer highly useful solutions to uncomplicate your entire work profile.
For growing company, and to manage resources holistically; what you need is a robust time and attendance software that can channelize your process, and improve your existing work system. To learn more about the core benefits and features of this software, please visit their website NOW